Take the tour of Sunshower
Just click on the images below to see a larger picture
| | |
| --- | --- |
| Located in east central Indiana, Sunshower has rolling grass and beautiful trees secluded on one hundred and twenty-five acres of forest land. | |
| | |
| --- | --- |
| | Our large "L" shaped pool with adjoining umbrellaed picnic area make for a very enjoyable day or evening. Please bring a lounge chair for comfortable sitting at the pool. |

This is a different view of the pool. The best view of the pool is when standing in it on one of those days in July/August when the temperature reaches 90 degrees. Again, as above, please bring a lounge chair or float for comfortable sitting around the pool.

Sports facilities include: Miniten, Dirty Bird Badminton, Hiking Trails, Shuffleboard, Horseshoes, Pickleball, and one playground area for the children. We also have an inside gameroom with pool, and darts. There is plenty of landscaped area for many other types of family recreational fun.
| | | |
| --- | --- | --- |
| | These are two views of some of the wonderful hiking trails surrounding the club. Just ask us and we will be glad to show you where they start. | |
| | |
| --- | --- |
| | Sunshower's clubhouse contains a large stone fireplace, kitchen, dining area, television, and shower to make all season activities most enjoyable. Many great dinners here and all our parties. This is a great meeting spot with a large TV to watch you favorite sporting event. |
Picnic tables with charcoal grills, campfire area, several improved campsites and unlimited primitive sites, provide a comfortable place to spend a relaxing stay.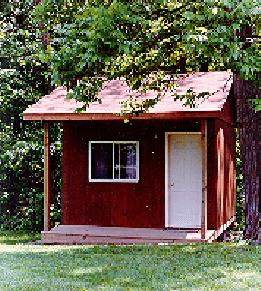 At present we have two modern cabins complete with refrigerator, table, grill, and heat which offer the less adventurous camper very comfortable accommodations.
Current rate is $45 per night plus grounds fees. If interested it is suggested that you call in advance for reservations.

There are also a several rental trailers available. Call early for reservations.